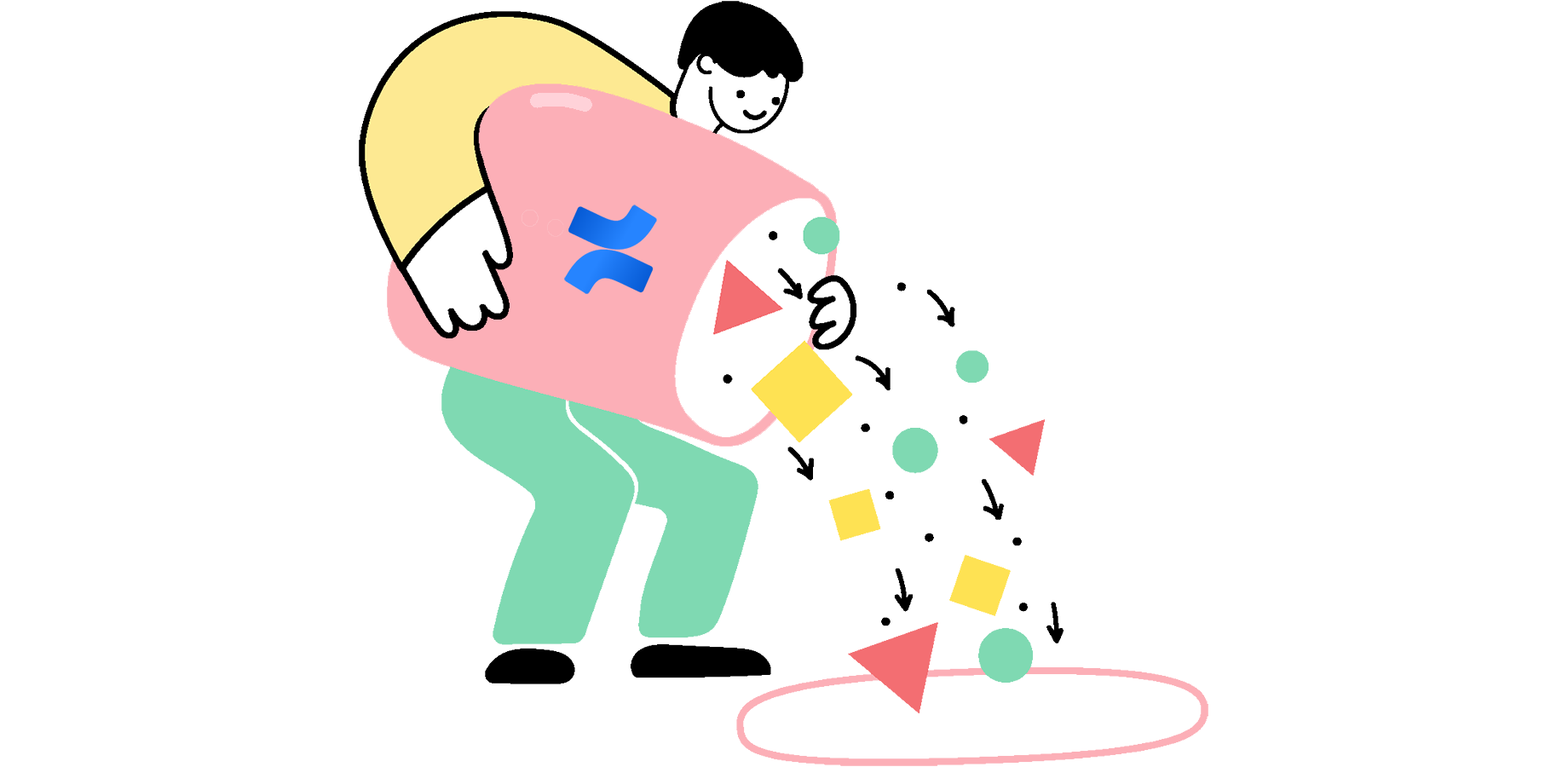 Remove what's not needed in Confluence
The team
Simon Bertran is a Business Solutions Manager at Computop, a digital payment solution provider based in Germany. Like many other teams, they were having a hard time managing a lot of out of date and low-quality content in Confluence. They decided to look into solutions to archive old Confluence pages.
The challenge: too many old Confluence pages
Simon remembers too well how the frustration started. "We reached a point where we wanted to know if there are existing solutions for managing the lifecycle of Confluence pages. Our top priority was to identify current and outdated content and be able to mark and archive them. As a next step, we wanted to notify users about old Confluence pages they created", says Simon.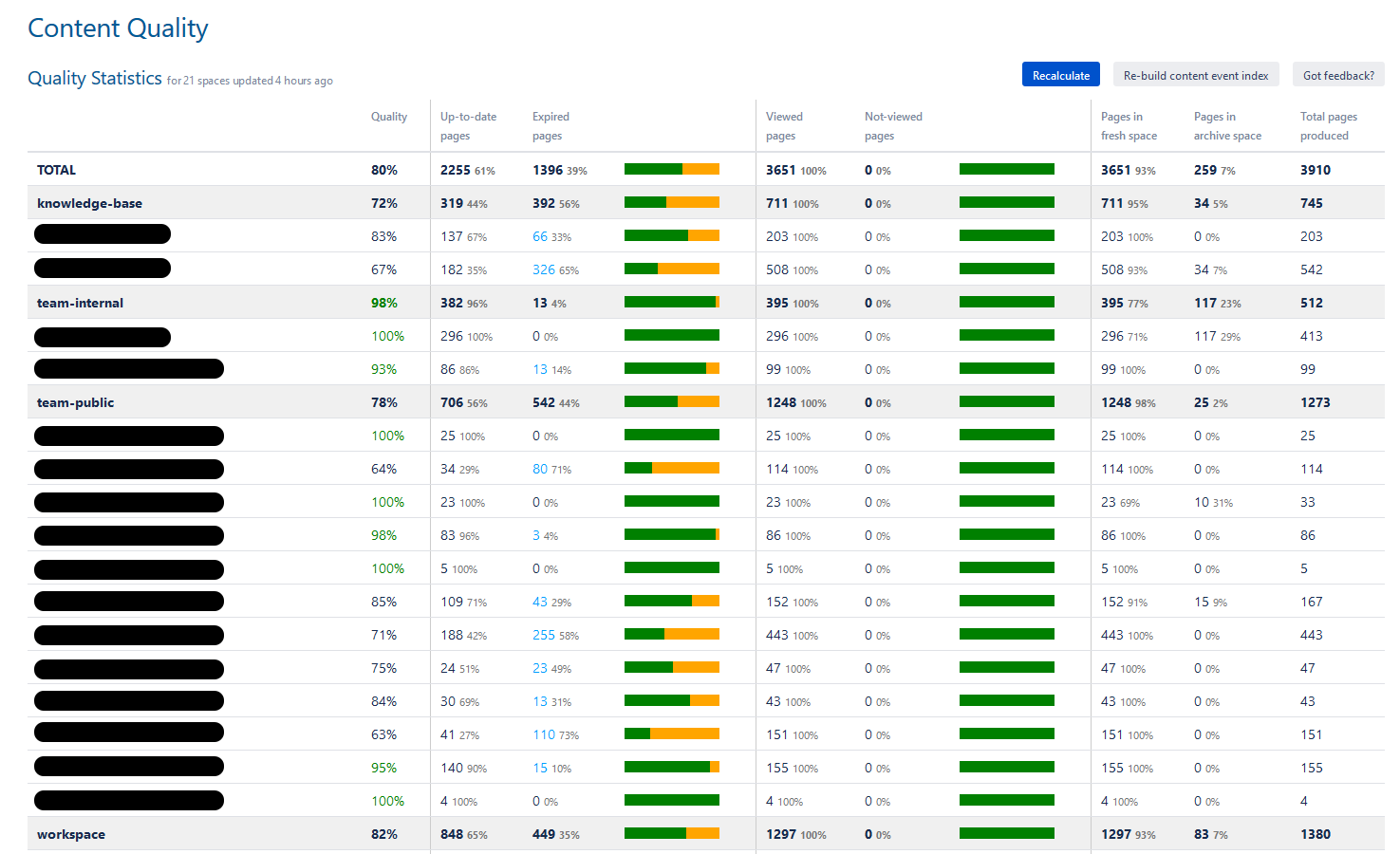 Content Quality Statistics across the Confluence spaces at Computop
Their team is not alone with this problem. Every team that uses Confluence in day-to-day work has to ensure high content quality. As Simon says, "the goal was to make it easier for colleagues to find the right information quickly.
The Computop team held a brainstorming session to discuss what their Confluence content management process should look like. They came up with a 4-pillar process.
4 steps to manage Confluence content according to Computop:
Define the time after users should be notified about outdated content in each particular Confluence space.
Prioritize space categories according to the importance of their content.
Agree on who will be notified: author? Last modifier? The content owners? The space admins? The wiki gardeners?
Require users to leave an archiving reason when they mark a page for archiving manually.
Who are the wiki gardeners?
Simon mentioned that they have wiki gardeners, who should be closely involved in anything that happens in Confluence. But who is a wiki gardener?
The "wiki gardener" is usually a team member, dedicated to taking care of the health of the company's knowledge base system. At Computop, a gardener is assigned to every Confluence space.
Wiki gardeners are responsible for carrying the above-mentioned 4-step strategy out. They provide first level Confluence support for their teams and take care of the content in their spaces. Business teams are also in constant contact with them to discuss how to optimize processes and introduce new features that support everyone's daily jobs.
The research followed the brainstorming session, and they came across the Better Content Archiving app on the Atlassian Marketplace.
Simon started a trial on their test Confluence instance and watched the YouTube tutorials to get familiar with the app. The evaluation went well, and they decided to roll it out to the Computop production Confluence.
"Before we started using Better Content Archiving for Confluence, we had no consistent process for handling outdated pages. Everyone tried to manage the content lifecycle and page archiving differently, without any coordination. For example, some of them ordered their pages by years or moved old content under a parent page called "Archive". Other users filtered page properties reports by dates", remembers Simon.
These are the typical signs of major flaws in managing your intranet content.
---
The solution: archive old Confluence pages
Gardeners now no longer have to go searching for outdated pages, because they get an automatic email notification about outdated or abandoned content. "They can use that information to reach out to their teams and decide which action to perform. With Better Content Archiving we introduced an easy and user-friendly content lifecycle management workflow. While doing so, we also made the job of our users and spaces gardeners more efficient", explains Simon.
Simon and his team at Computop also gained quite a lot of experience with Better Content Archiving through a few of their use cases.
"We archive content to keep the page tree slim. We do this, for example, for old protocol documentation that needs to be archived or for completed requirements. This makes our Confluence content clear and accessible with fewer clicks. Thanks to the "Move" archiving strategy in Better Content Archiving, the pages linked in Jira can still be accessed because they are not deleted", says Simon.
They also use Better Content Archiving to manage content about recurring events: "Once information about an upcoming event is published, the old Confluence page for the previous event is archived. This way our employees will only find the information about the current event in Confluence. However, any information about old events can still be found in their archive spaces."
The benefit of archiving Confluence content
When they started using Confluence, the Computop team didn't really think about content lifecycle management. They waited until they had a burning problem on their hands.
Now they get more out of Confluence with Better Content Archiving:
They keep the amount of pages under control.
They have an overview of outdated pages.
They have a workflow to update or remove outdated pages.
Their new content lifecycle management process ensures long-term data quality in Confluence and more efficient teamwork.
Don't wait until your team feels the pain of an overgrown Confluence, start experimenting with an archiving strategy now!