Commit Policy Plugin for Jira
Verify the changes committed to Git, Bitbucket, GitHub, GitLab, Subversion & Mercurial against configurable rules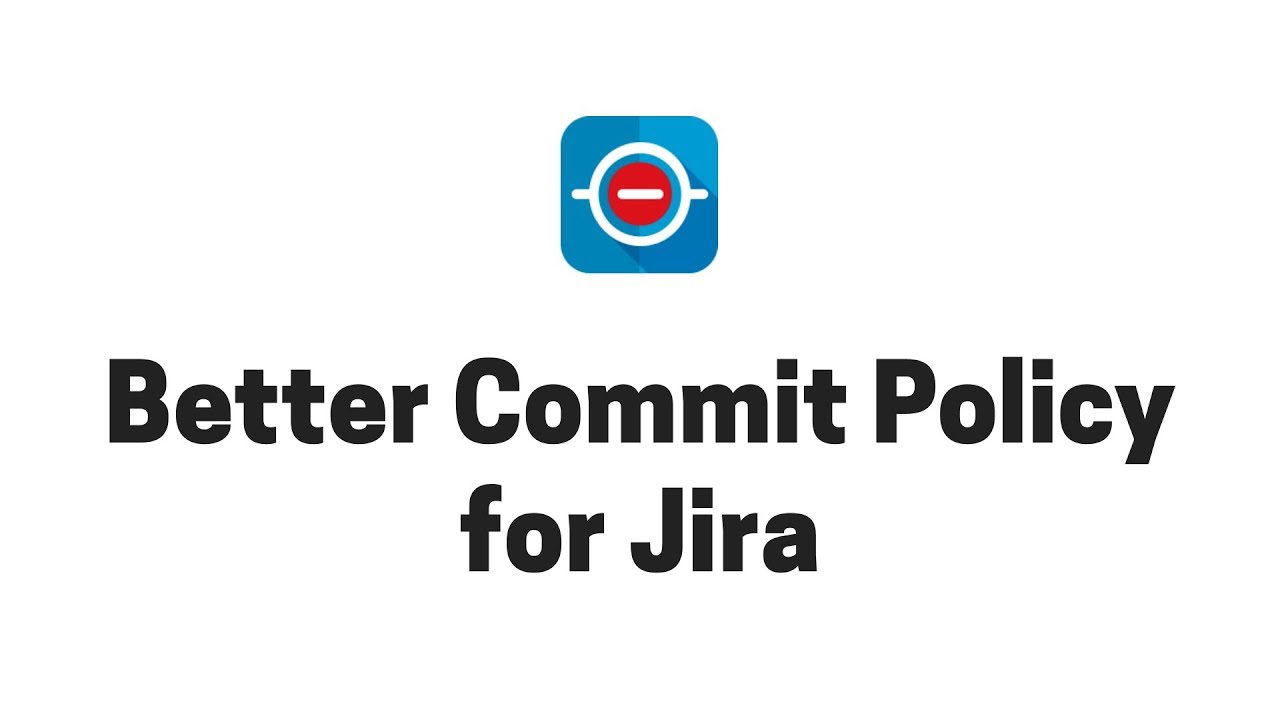 How does it work?
Commit Policy Plugin checks the changes committed to your Version Control System against a set of configurable rules (the commit policy). When the policy is not satisfied, the commit is rejected. Rejected changes should be "fixed" to comply with the policy, and then be re-committed.
That's the story in nutshell, but make sure you watch the intro video.
Sounds familiar as you are using the legacy Jira Commit Acceptance Plugin? See the comparison!
Manage consistent commit policies centrally in Jira
Apply policies to any number of repositories (central or clone).
Flexible
Policies consist of any number of commit rules, that can be restricted to branches and to file sets, and can be combined with AND or OR logical operators.
Parametric
Commit rules consist of conditions, that can be conveniently configured via the web interface.
Agile
The sooner problems get detected the cheaper it is to fix them. Therefore the app verifies changes as early as possible in the process. For instance, Git commits can be verified before they are actually made, not only when being pushed!
Conditions to verify the committer's identity
Committer must have a valid Jira account

only users with valid Jira accounts can commit changes
only users in the "teamlead" Jira group can commit changes
reject all changes (essentially making the repository read-only)

Committer attribute must match a pattern

only users with the username "joe", "jack" or "jim" can commit changes
only users with in an email address matching "*-ext@acmeinc.com" "can commit changes
Conditions to verify the commit message
Commit message must contain issue keys from a JQL query

no changes accepted without at least one Jira issue associated
changes must refer to exactly one user story in the current sprint
changes must refer to unresolved bugs and change requests planned for the next maintenance version of project FOOBAR

Commit message must match a pattern

commit messages must be at least 10 characters long (excluding whitespace)
commit messages must start with a Jira issue key
Conditions to verify the committed files
Changed files must match a pattern

lock the "/doc/legal" directory from modifications
lock the "copyright.txt" file from modifications
accept image files only in the "/web/static/images directory"
reject *.tmp, *.cfg, *.obj, *.class, .* and other temporary, hidden or local environment-only files
Friendly
Encourages good practices by showing all relevant details of why a commit was rejected.
No learning curve
After a couple of rejections, clean and precise commits become the new normal.
No restrictions
Your team members can use any standard compliant VCS client (commandline, GUI, IDE integrations) on any operating system.
Supported Version Control Systems
Subversion to Git migration: apply the same policy to your old and new repositories for a smooth transition!
Traceability
Enforce associations between source code changes and Jira issues (requirements, user stories, tasks, bugfixes, etc.).
Automatic input for requirements validation, impact analysis and compliance verification.
Clear code & history
No temp files, config files, garbage checked into the repo anymore.
Establish file naming- and file location conventions.
Simple access control
Lock repositories with a click globally, for a group, or for a user.
With any version control system.
Who's using it?













This is a must have to have a clean repository. The ability to check the rules also locally is just great. The support team is really reactive and efficient.
Not only does this plugin provide exactly the features we were looking for, it was easy to setup with clear instructions. Support was great - extremely helpful, responsive, and polite.
While the plugin is great, the support is even greater (shout out to Gabor)! The initial environment setup was fairly easy. Just set it and forget it.
Great plugin, way better than the old Commit Acceptance Plugin.
more reviews →