Norway has this really great and rightful reputation of a beautiful and well-managed country, with a lot of emphasis on quality healthcare and education. The weather is not for the faint-hearted most of the time, but at least the hard-earned tax Krones are invested back into what makes a nation great and a country livable: into the people and into communities.
The Norwegian Labour and Welfare Administration (or NAV for short) is a government institution that's at the forefront of this work. NAV manages the third of the county's budget and is responsible for administering important social programs such as unemployment benefits, pensions, child benefits and more.
A good portion of their 19,000 employees uses Confluence to go about their daily work. But according to Bian Wu, developer and Atlassian Consultant at NAV, they also monitor their Confluence usage and dynamically manage their resources based on their findings. To analyze the usage pattern of their Confluence content, they use a smart combination of the Better Content Archiving for Confluence and the eazyBI Reports and Charts for Jira apps.
The components of this Confluence analytics solution
Better Content Archiving is the Content Lifecycle Management app for Confluence. It's used by hundreds of teams that rely on Confluence daily and that also think about what happens with all that content over time. Better Content Archiving lets them define custom rules to automate the task of following every piece of content throughout their lifecycle. The app notifies stakeholders if something is getting out-of-date or automatically archives obsolete Confluence content, helping the team keep a clean and always up-to-date Confluence.
The data analytics leg of this system is eazyBI Reports and Charts, an advanced reporting app with charts, pivot tables, and dashboards. It's flexible enough to also import and handle data from a wide variety of sources. It's available as a Jira app, but also as a standalone desktop application for Windows, Mac, and Linux, as well.
Monitor the content quality changing over time
Bian's team has been using Better Content Archiving to monitor content quality and archive not needed content for more than a year now. Based on preset parameters, the app calculates the quality metrics for each space, for example, the number of outdated or not-viewed pages. It happens effortlessly in the background and the results are shown in the Content Quality Statistics section of the app.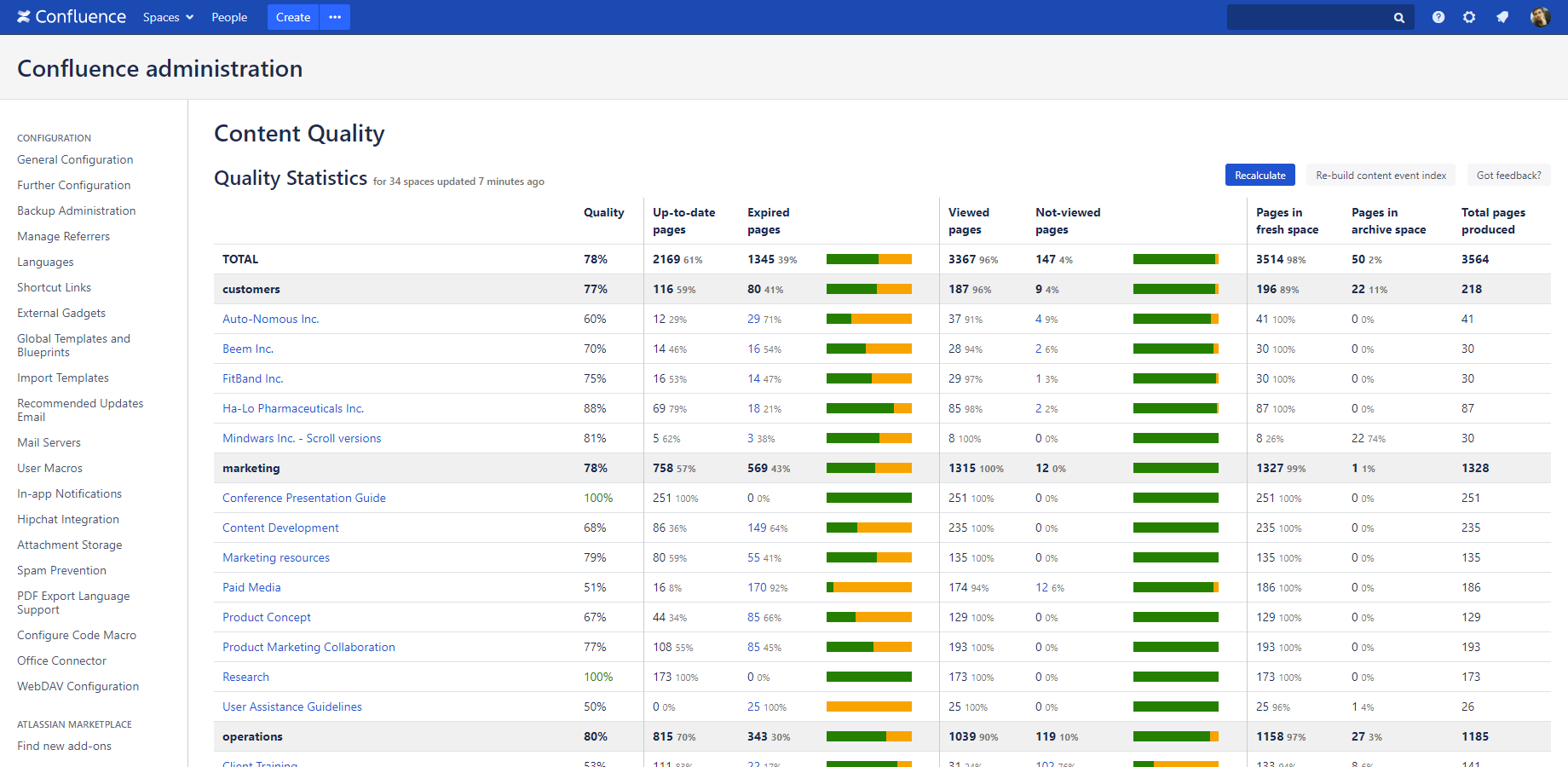 A quick glance and you get the idea of your Confluence content health
This statistics table is recalculated every 2 hours, giving an always up-to-date reading of Confluence content health. The new values always overwrite the previous ones in this table. So when Bian and his team started wondering how the content quality changes over time, they reached out to the Midori support for help.
Based on their guidance, Bian was able to locate the current content quality data in the Confluence database. As a next step, Bian created a new database table, and set up a simple, automatic process to copy the content quality data into this new table periodically, appended with a time stamp. The Confluence content quality metrics are now being collected here, ready for analysis.
At this point, the experts from eazyBI stepped in to help this project further. Bian was able to setup eazyBI, so it imports the data and pulls in the Confluence content quality metrics directly from the Confluence database.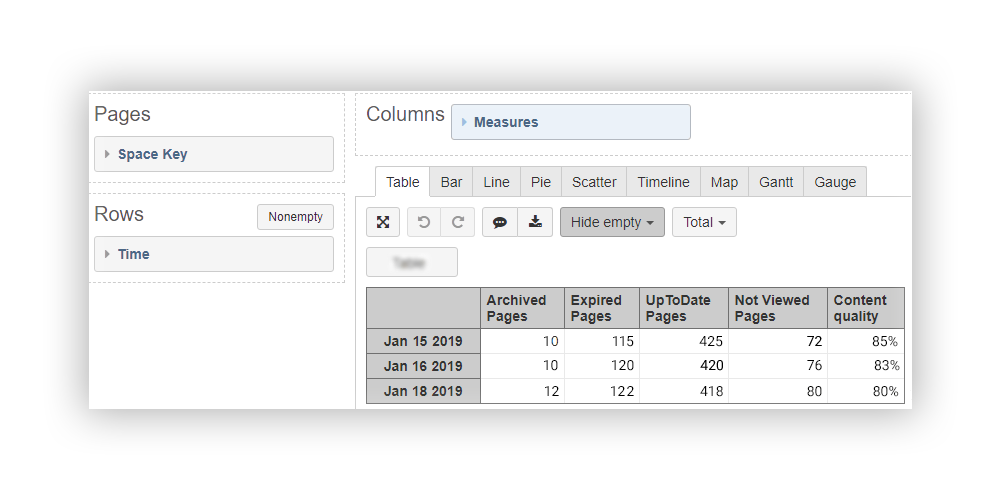 Confluence content quality metrics in an eazyBI pivot table. (Actual numbers have been changed for privacy)
After importing the data, Bian could use the powers of eazyBI for Jira reports and chart to visualize the changes in the team's Confluence content quality in pivot tables and on a time scale. Bian is also using eazyBI to report on their finding to decision makers and the organization at large.
Conclusion
If Confluence is in constant use at your company and teams rely on content there, then it's already time to think about what happens with your content over time.
Better Content Archiving helps you collect content quality statistics, so you can look under the hood of your Confluence instance and understand its health.
To go even further, you can build a fully equipped Confluence analytics system, by combining this stream of content usage data with the analytics and dashboarding powers of eazyBI Reports and Charts.
Get Better Content Archiving to follow and clean your Confluence content!