Better DevOps Automation for Jira Data Center
No-code, low-code automation from Git, Bitbucket, GitHub, GitLab, Subversion to issues, notifications, CI/CD, DevOps tools, custom scripts and more
How does it work?
Better DevOps Automation connects the Automation for Jira Data Center app, Atlassian's standard process automation solution, to development workflows.
It provides development-focused triggers and actions that can be freely mixed with the built-in automation components.
Why should I use it?
Elegantly trigger Jira Data Center workflows from Git, Bitbucket, GitHub, GitLab, Subversion, Mercurial and other Version Control Systems.
Seamlessly connect Bamboo, Jenkins, TeamCity, Slack, Twilio, Zoom and other tools to Jira Data Center workflows.
Implement notifications, builds, deployments, delivery, code scan, custom logic with a few clicks.
1000s of DevOps use cases with no-code, low-code
Easily replace manual DevOps workflows, other Jira apps and external process automation solutions with light-weight automation rules.
Automate all things DevOps! 🤖
Benefits:
Boosted developer productivity. It enables developers focus on innovation.
Faster. It's never too tired to do the repetitive tasks.
Higher-quality and more consistent results. It eliminates manual errors.
Happier developers. Satisfied developer → productive developer!
Major cost savings. Replace other Jira apps and external tools.
Supported triggers
Each trigger supports a rich set of Smart Values (variables that you can use to configure automation actions).
Supported actions
Tip: see the Groovy library for pre-written scripts to 1, 2.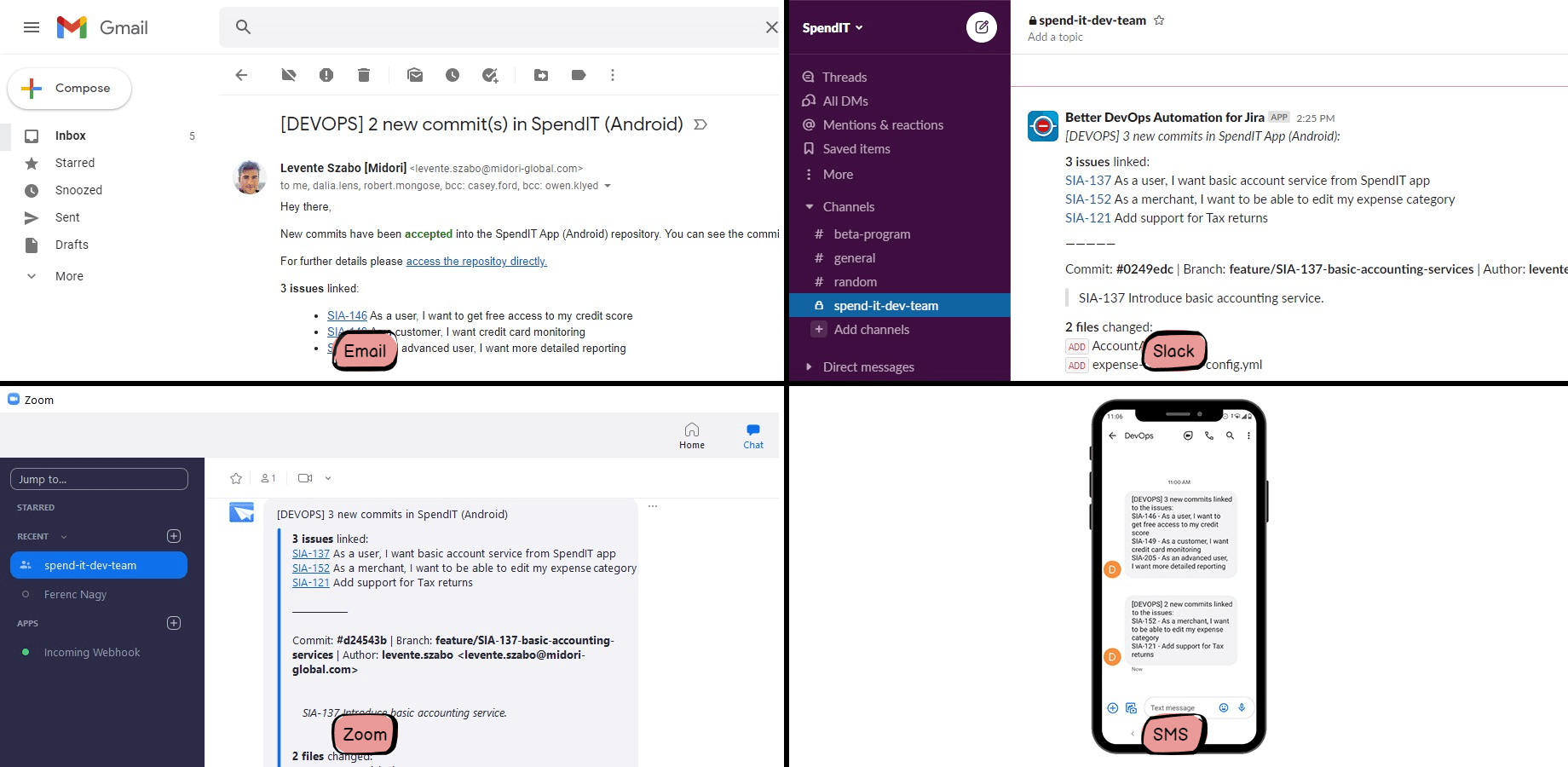 Receive notifications from Git, Bitbucket, GitHub, GitLab, Subversion, Mercurial
Send notifications in your DevOps workflow when the code, branches or tags are updated. Use custom content.
Supported channels:
You can integrate any additional communication tool if it has an API! (All modern tool has one.)
Start Bamboo, Jenkins, TeamCity, other CI/CD builds
Integrate Continuous Integration, Continuous Deployment and Continuous Delivery to your DevOps workflows.
Start builds after every change, if certain conditions are met, or if the developer instructs so in the commit message.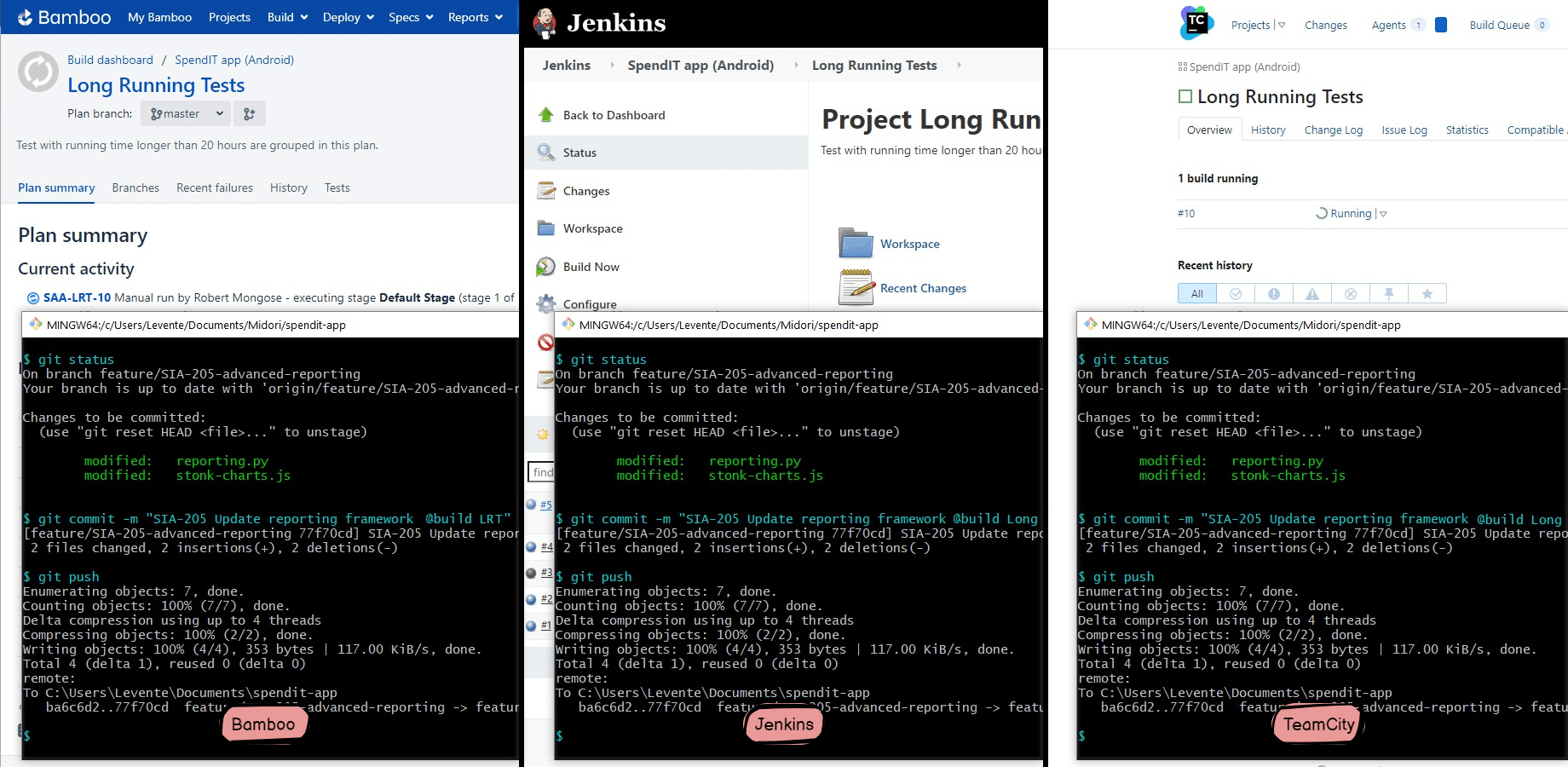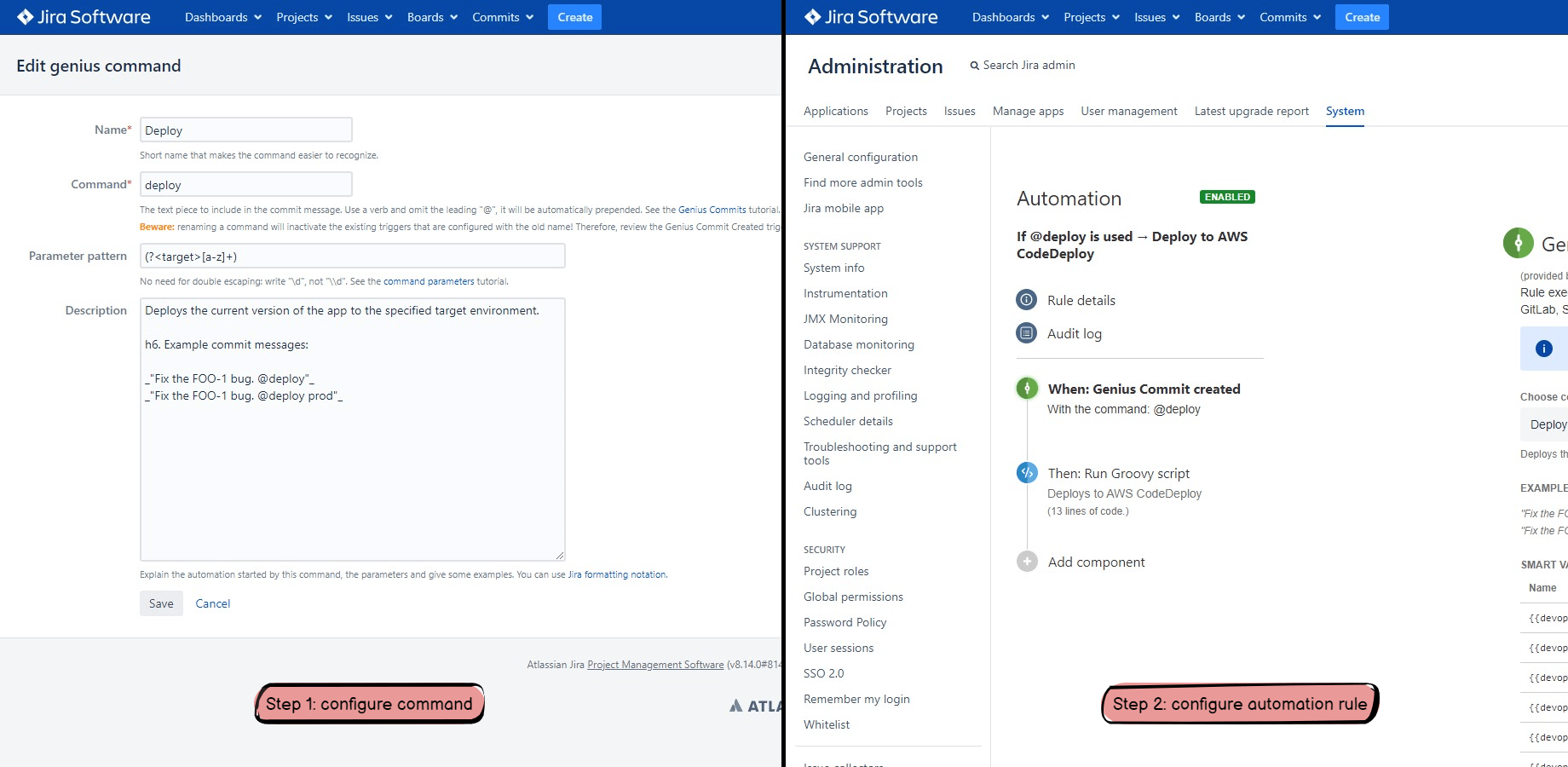 Execute Groovy, Python, .bat, .sh
Run Groovy scripts, Python programs, batch files, shell scripts and any other executable in DevOps workflows. They are fully integrated: parameters can be passed, stdout and stderr can be returned to the audit log, etc.
What's better than Smart Commits? Genius Commits!
Start automations right from your commit messages: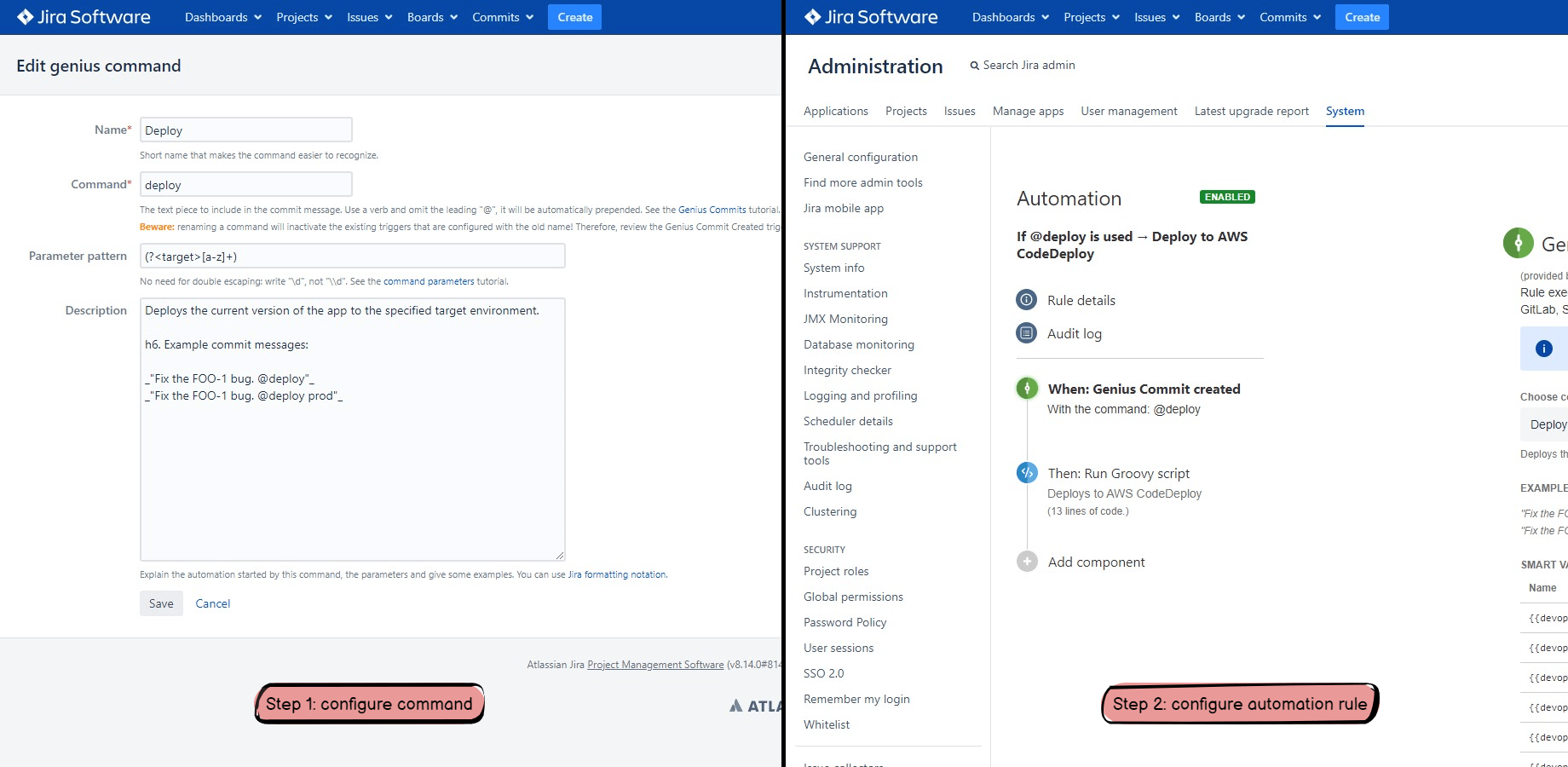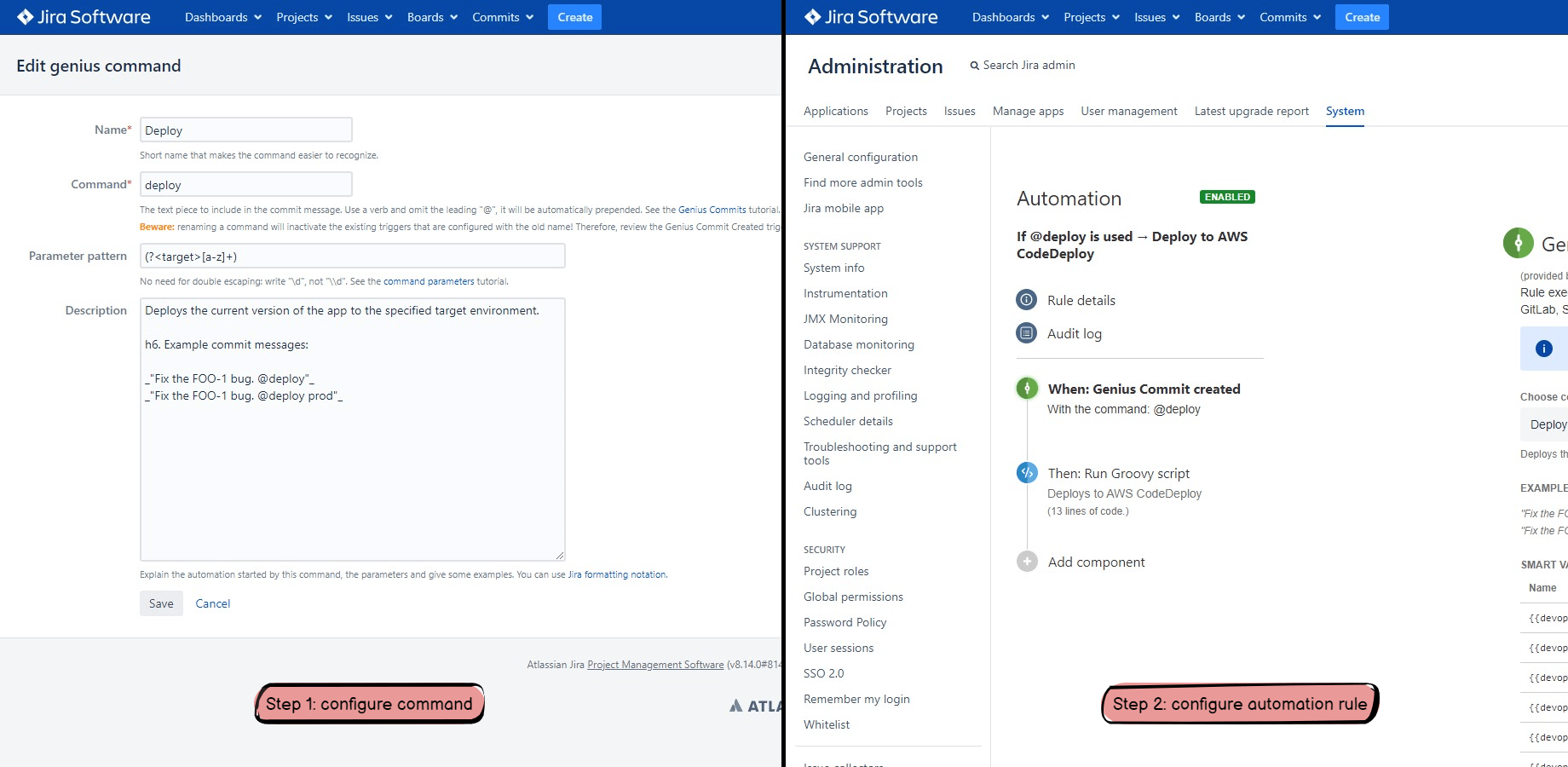 Create your custom Smart Genius Commit
Creating a new command is as simple as:
Give it a name and define its parameters
Define its logic with an automation rule
Enjoy!
Integrated with the DevOps tools you already use
Connect development tools to Jira workflows.